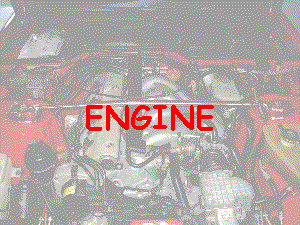 Last Updated 22 May 2008
---
DME CHIP UPGRADE

The fuel mixture and ignition timing of all 944s is controlled by the Digital Motor Electronics (DME). The DME is a digital computer that reads data stored in one or more programmable electronic "chips." Based on the signals from various input sensors (ambient air temperature and pressure, water temperature, throttle position, RPM, etc.) the DME reads the correct values from the lookup tables and adjusts the engine parameters accordingly. The DME is located under the carpet and floorboard in the passenger side foot well.
Significant power increases can be obtained from the 944 Turbo engine by simply raising the boost pressure and installing a matching set of DME and KLR chips to regulate timing, fuel flow, and boost regulation. The normally aspirated S2 engine does not benefit from such an easily upgraded design. Large increases in power require large expenditures in both time and money. However, upgrading the chip in the DME is still possible, and that's what I chose to do. Once you've removed the DME from under the passenger side floorboard, it's a pretty straight-forward modification, but it must be done with care to avoid damaging the chip or delicate DME circuit boards. Since all electronic devices are sensitive to electro-static discharge it's also good practice to wear a grounding wrist strap while working with these components.

S2 owner Jim Griffin has outlined a detailed procedure for removal of the DME and installation of a performance chip. Check it out on his website.
The custom DME chip I installed in my S2 was described to me as a "Weltmeister clone." After installation I noticed the following:
| | |
| --- | --- |
| | Subjectively, the engine felt like it wanted to rev much better in the upper RPM range. |
| | Drivability was equal to or better than stock with no flat spots or hesitation. |
| | The exhaust had a bit more raspy sound, probably from the increased timing. |
| | Mileage was about the same. |
| | Emissions test results: 0.00% CO and 0.0 PPM HC. Can't beat that! |
After installing the chip I ran the S2 on a Dynojet chassis dynamometer at Carburetor & Fuel Injection Connection in Kirkland, WA. Sorry I don't have any before and after runs for comparison. Hindsight is always 20-20 I guess.
Although the two dyno charts look different, both runs produced similar results. The different shapes were due to scaling changes from one run to the other.
Dyno run 1: SAE corrected 181.1 HP @ 5500; 182.7 ft-lb @ 4200
Dyno run 2: SAE corrected 184.5 HP @ 5600; 185.1 ft-lb @ 4100
So, what's the real world increase? Assuming a 15% drive train loss, the flywheel power output was between 213 and 217 HP; torque figures were between 215 and 218 ft-lb. While these are not huge increases compared to stock figures of 208 HP and 207 ft-lb, they can be felt. Since I paid a modest $125 for the chip (I received a repeat customer discount... current price may vary) I feel it was a worthwhile modification. Other chip options are available from Weltmeister or Autothority Performance Engineering.
---
CANTON MECCA OIL FILTER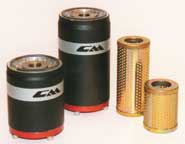 Canton Racing Products has been manufacturing high quality lubrication and fuel devices for over 25 years. One of their most popular and famous items over the years has been the Accusump oil pressurization system. They also manufacture a line of spin-on and remote oil filters under the CM Filter name. CM filters have the following characteristics:
| | |
| --- | --- |
| | Machined aluminum housing with removable red anodized billet lid and stainless hardware. |
| | Replaceable synthetic fiber element that filters down to 8 microns (half that of most filters). |
| | High flow depth filtration element with long service life (typically 10,000 street miles). |
| | Two element sizes: 2-5/8" and 4-5/8" long. |
| | No bypass valve needed so the element filters all the oil, all the time. |
I installed the long #25-480 filter in my son's 944 Turbo and the short #25-280 filter in my 944 S2. Canton lists the 25-480 filter as fitting all 944s and 968s, but that wasn't my experience... the longer housing interfered with the distributor housing on the 16-valve engine.

Canton has recently released a new design for these filter assemblies and the new part numbers are #25-482 and #25-282.
Changing elements is a snap. Just remove the four Allen head bolts and pull off the cap and withdraw the element... all without spilling any oil... well, maybe a few drops :-) CM filters are priced between $87.50 and $95 and are available direct or through other racing hardware outlets.
---
CARGRAPHIC EXHAUST

Pictures TBD
In my never ending search for power, reliability, and exotic good looks I decided to purchase a complete exhaust system from Cargraphic, a German company that's relatively new in the US. I purchased the system direct from Cargraphic USA. This 304 stainless system includes four pieces: 1) Downpipe with 100-cell racing type catalytic converter, 2) Center muffler, 3) Sport backbox, and 4) Tailpipe (oval tip, 89x115 mm). The system is really fantastic looking and should improve both sound and power because of the low backpressure straight through design. I can't wait to install it. Stay tuned for pictures and impressions.
---
FLYWHEEL & CLUTCH UPGRADE

After more than 82,000 miles it became apparent that the stock clutch in my 944 S2 was on it's last legs... or should I say (diaphragm) fingers? The S2 and other NA models are infamous for their rubber center clutch disc and the resultant "shuddering" that comes with age and heat. With track season looming I decided to replace the OEM clutch package with the Sachs Sport Disc and normal S2 Sachs Pressure Plate. I also considered the Centerforce clutch kit, available at a really great price from Performance Intl. However, after careful evaluation I concluded the Sachs clutch kit was a "safer" choice based on the unknown (to me) reliability record of the Centerforce unit. Little did I know this Sport disc may not have been the wisest choice.
The Sport Disc shown above is a spring center disc with three pairs of different size springs. It is significantly lighter than the OEM rubber center disc and has a different type of friction surface with higher power handling capability and greater longevity. Like most things in life, you lose a little here... you gain a little there. In the case of the spring center disc, you lose the big, fat rubber donut damper and get very smooth engagement and shifting... but you also gain some transmission noise in the process... or in my case, a LOT of transmission noise... and a vibration in the gear shift lever between 3200-3400 rpm that gives your fingertips a vigorous massage. Hmmm, something fishy is going on here... better investigate.
Here's the latest on my clutch disc investigation. Shown above is a comparison of the Sachs standard spring center disc and the Sport version. As you can see, the standard version has a longer hub design, with a corresponding longer length for splines engagement, and maybe more important, the splines contact area has been shifted rearward slightly to more closely mimic the engagement position of the rubber center disc. Compared to the Sport disc it has different color-coded damping springs and a slightly different type of friction facing. This standard spring center disc should be similar or identical to the genuine Porsche spring center disc, part number 944-116-011-02. This new disc supersedes the old rubber center disc, part number 944-116-012-11. At a list price of over $700, I doubt they'll be many takers for this new Porsche disc... but if you really want one you can buy it for approximately $205.00 plus 15% markup from Sunset Porsche in Beaverton, OR (cost + 15% prices not applicable to Oregon and Washington residents).
Anytime the clutch components are replaced the flywheel should be resurfaced. In my case I chose to install a lightened and resurfaced stock flywheel from Huntley Racing. HR claims it weighs 4 lbs less than the stock weight of 16 lbs. I guess I'll never know for sure because time constraints prevented me from weighing the lightened unit before installation. Personally, I have my doubts.
Except for the severe shifter vibration and noise problems I'm having, I really like the way the new clutch functions. It is very smooth and shifting is much easier than with my old setup. The lighter disc weight combined with the lightened flywheel does seem to improve the engine's throttle response and desire to rev. The more I drive it the better I like it... but I hate the vibration!

The cause of my noise and vibration problems were finally traced to the flywheel, which apparently was either not balanced, or was improperly balanced by Huntley Racing. I ended up pulling out the flywheel and having it checked for balance, which was found to be severely out. Once that was corrected, 95% of my shifter vibration was gone.
---
K&N AIR FILTER

Pictures TBD
I finally succumbed to the "hype" and installed a K&N drop-in air filter, purchased online from Paragon Products. Here's a direct link to the order page. This is K&N part number 33-2807. This filter has not been previously available in the US until earlier this year (2001). The one I received was made at the K&N plant in the UK.
Those unfamiliar with the K&N should check out the hype... uh, I mean information at the link above. Some of the advantages K&N claims for their filters are:
| | |
| --- | --- |
| | Improved fuel economy |
| | Up to 15 HP increase |
| | Washable and reusable |
| | Won't void vehicle warranty |
| | Lasts up to 50,000 miles before service is required |
| | Emission legal... yada, yada, yada |
I wasn't expecting the K&N to add 15 HP... or 10 HP... or even 5 HP, so I wasn't disappointed with the result. While I do feel that the engine runs just a bit smoother, has just a bit better throttle response, and might even have a bit more pull in the upper RPMs, I wasn't expecting a miracle, and I didn't get one. Your results may vary. I have a friend who installed a K&N filter in his 968 and he claims it made a big difference. That could be. The air box in the 968 is much less restrictive compared to the design of the S2. It could be that a K&N filter in an S2 air box is hampered by the factory design. An old trick often used with older 911s is to bore several larger holes in the air box. Would it help? Who knows, but I may try that with the S2.
I wish I could provide some pictures of the filter but unfortunately my digital camera was not available at the time of the installation... and I'm not ripping it apart again any time soon! For those of you that are not aware of the filter location on the 944 S2, it's up under the front header panel, so changing the filter isn't exactly a 5-minute job. A technical discussion of the replacement procedure is presented here.

I have now replaced the K&N with a standard Mahle paper filter. I just never felt "good" about the K&N's ability to filter small dust particles, so out it came. Can't say I notice any difference in the way the engine runs. Anyone want a K&N cheap :-)
---