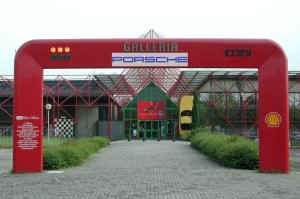 Last Updated 22 May 2008
---
SCOTT PULTZ — 1989 944 TURBO COUPE

Here's a few pictures of my son's 1989 944 Turbo with a set of factory 18" Sport Design "GT3" style wheels with 225/40 and 265/35-18 tires. These wheels are made by BBS and are optional on the 996 and Boxster. We only mounted them for these shots as Scott decided not to keep them. Note: in order to fit these on the 944 you MUST fit at least a 5 mm spacer on the front wheels to clear the wheel bearing cap. In the end Scott thought they were a little too "wagon wheel" looking for his tastes. Not bad... but not exactly the look he was after. He's since installed a set of 17" 996 twist wheels... gotta keep up with dear ol' Dad I guess.
---
JIM DEMAS — 1995 968 COUPE

I can't have a website about Porsche cars and not include some pictures and information about my good friend from California, Jim Demas. When Jim purchased his 968 it had the very nice 17" Porsche "cup" wheels in 7.5 and 9x17 sizes. Not being one to leave his car totally stock (are any of us?) Jim decided to upgrade the looks and handling of his 968 by fitting a set of 18" Porsche "Technology" hollow spoke wheels and Pirelli P-Zero tires. Jim also got rid of the SUV ride height by fitting the factory M030 height adjustable front struts and adjusting the rear ride height via the eccentric adjusters. Notice also the absence of the black "rubber baby buggy bumpers" (try repeating that aloud) courtesy of a set of Euro front lens. I think the car looks fantastic, don't you? Now Jim... could you please send some of that nice, warm California sunshine up here to Seattle :-)
---
968 TURBO S/RS COUPES

The 968 Turbo S and RS are two of the rarest and fastest models ever produced by the Porsche factory. The turbo charged engine is based on the 3 liter 968 block with an 8-valve head like the 944 Turbo. Check out the specifications and owner info posted on the 968.net site, and be sure to visit Bruce Corwin's 968 Turbo RS site.
---
WIL TOSADO — 944 S2 CABRIOLET

This is a very unique car! Wil has taken his 944 S2 cabriolet and combined what he feels is the best of the 944 and 968 bodies. The rear end is a factory 968 rear shell that was grafted to the 944 body. He also installed 968 mirrors, door handles, 968 style side skirts, and an AIR front splitter. Check out his custom reverse dial backlit gauges here.
---
NICHOLAS ROUSE — 944 S2

Nicholas Rouse owns this red 1989 944 S2 coupe. I imagine it's a pretty rare sight down-under in Melbourne, Australia. One of the unique features of this S2 is the new set of light-weight 18" wheels and Pirelli P-Zero tires from the 911 Carrera. Wow, they sure change the looks. Nicholas is also fitting the "big red" brakes with "drilled" rotors for the front, and 968 M030 "drilled" rotors for the rear. Looks very clean and nice. I sure like the looks of the Euro style rear bumper. Ha, maybe I'll even get mine mounted one of these days :-)
---