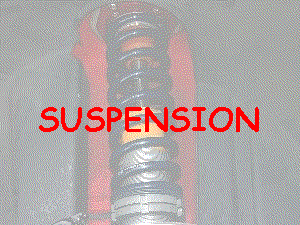 Last Updated 22 May 2008
---
CAMBER PLATES & STRUT BRACE

I did a lot of investigation about camber plates before purchasing those from The Racer's Edge. These beautifully finished components are now sold by Automotion, Performance Products, and Paragon Products. They were the only camber plates I found that positioned the bearing in the exact same location as the stock strut bearing. Other designs will raise the ride height because the bearing is in a carrier below the stock location.
In order to position the bearing in the exact same vertical position as the stock bearing, the bearing carrier fits up (from the underside) into the upper plate. The bearing is a New Hampshire Ball Bearing (NHBB) Teflon-lined spherical bearing that can support over 9000 pounds vertical load and 58,000 pounds radial load. It is maintenance free and never needs oil or grease. NHBB is the bearing of choice for many top racing teams.
The horizontal load carrying sections are all 0.375" thick 7075 aluminum alloy. Other plates are typically only 0.25" thick. The bearing holder slides back and forth in the typical slots you see on other plates, however it is held in place by four 8mm, grade 12.9 bolts. This design does not inhibit the use of strut braces such as the Weltmeister. The total camber adjustment range is approximately 2.5 degrees.
The strut brace shown is a stainless steel Brey-Krause, model R-1521 that was purchased from Paragon Products. The combination of camber plates and strut brace really provides great steering feedback. I haven't noticed any increased harshness, but there is definitely more road noise transmitted into the interior, especially on some of the cobblestone-like concrete freeways we have around Seattle. I think a large part of this is due to my harsh riding Michelin MXX3 tires. I guess I'll find out when I change them!
---
FRONT STRUTS & SPRINGS

FRONT STRUTS: The stock S2 struts provide a smooth ride without undo harshness, however they leave a lot to be desired for any performance driving. Unfortunately, the popular Koni aftermarket adjustable yellow sport struts for the S2 have been discontinued for several years now, so there aren't too many affordable upgrade choices available. Some of the potential options I considered at the time I bought my struts were:
| | |
| --- | --- |
| | Factory 944 S2 M030 (Club Sport Package) externally adjustable Koni struts with height adjustable threaded collars, part numbers 951-343-031-32 & 951-343-032-32. Not currently available new from Porsche. Often available in the used market for $500-800/pair complete. |
| | Factory 968 M030 externally adjustable Koni struts with height adjustable threaded collars. Special order from Germany. Physically identical to the 944 S2 M030 struts but with stiffer (?) valving (see parts list below). |
| | Koni aftermarket standard 944 turbo struts, #8741-1136 L&R S. Now discontinued. R.I.P. |
| | Koni aftermarket M030 type externally adjustable struts with height adjustable threaded collars, #8742-1007 L&R S. Physically identical to the 944 S2 M030 struts except for the addition of the compression damping adjustment feature at the bottom of the strut housing. Call for current availability. These may have also achieved R.I.P. status. |
968 M030 Front Struts — Parts List

| | |
| --- | --- |
| Part No | Description |
| 944-343-031-28 | Front Strut, Left |
| 944-343-032-28 | Front Strut, Right |
| 133-412-341 | Upper Perch (2 ea) |
| 951-343-525-32 | Lower Perch (2 ea) |
| 951-343-524-00 | Lock Ring (2 ea) |
| 944-343-531-01-104 | M030 Spring Set |
| 951-343-527-00 | Rubber Stop |
| 951-343-529-30 | Boot |
The first two struts on the list are very expensive from Porsche. List price is over $600 each for the 968 struts. The total retail price for the 968 M030 strut parts listed above is roughly $1700... which makes for a very expensive installation using new parts.
If you are lucky enough to find the Koni aftermarket standard 944 turbo struts they are much more reasonably priced (about $250 each), but they don't come with the height adjustment feature of the M030 units, and you'll also need to fit different springs and spring perches since the turbo struts are different from S2 struts. Fortunately, you can buy relatively inexpensive adjustable spring perch kits from several suppliers such as Ground Control, Huntley Racing, or Paragon Products. These allow you to fit standard 2-1/2 inch ID racing springs in just about any spring rate desired.
At the time I upgraded the suspension I considered both factory M030 options, but finally settled on the Koni aftermarket M030 type struts because they were significantly less expensive (about $400 each) and they incorporated adjustments for both rebound and compression, i.e., they were "double adjustable." Factory struts are adjustable for rebound only. I purchased these struts from RD Enterprises in San Diego.

Jason Burkett at Paragon Products has now confirmed that Koni has introduced a new shock insert that will fit the '87-'89 944, the standard 944S2, the '86-'88 944 Turbo, and the standard 968. These 8641-1414 S units are an externally adjustable gas insert that will fit into the stock Sachs or Koni strut housing. These units are available now at a cost of about $150.00 each. Click here to view the installation instructions.
SPRINGS: Spring rates published in the factory workshop manual list rates of 23.8 N/mm (135.9 lb/in) for the stock S2 springs and 28 N/mm (159.9 lb/in) for the M030 option springs. Both springs have nonlinear rates however so the real rates can not be directly compared to most aftermarket springs. The M030 setup feels a lot stiffer than the few pounds per inch difference in spring rates would indicate. Either one is decidedly "soft" by full competition standards however, where rates of 450 lb/in or higher are common.
My goal was to achieve a balance between reasonable ride quality and good performance in both street and track driving. After careful evaluation I selected 2-1/2 inch ID, 10 inch long, 300 lb/in Hypercoil linear rate springs. These standard "racing" springs were adapted to the Porsche M030 threaded collars (included with the Koni struts) using custom made lower spring perches and jam nuts from The Racer's Edge (about $25 each).
The combination of 300 lb/in springs and Koni struts produces a ride that is significantly stiffer than the M030 suspension. However, in day-to-day driving I don't find it to be too harsh... you might though :-) Stiff springs in and of themselves don't necessarily ruin the ride as long as they are matched with appropriate shock valving. Pretty stiff? You bet. Too harsh? Uh... not in my opinion :-) Handling? Fantastic!
---
REAR COILOVER SHOCKS

I originally planned to install heavier rear torsion bars to balance the stiffer front end. However, since I wanted more freedom to easily change the rear spring rate if required, I installed a rear coilover kit from Paragon Products. This kit includes Koni 3012 threaded aluminum bodied shocks, Hypercoil 2-1/4 inch ID springs, tender springs, and Racer's Edge lower mount adapters.
KONI 3012 SHOCKS: The Koni 3012 shocks are a high pressure gas monotube design and only weigh about 3 lbs each. They are adjustable for both compression and rebound and mount upside down to reduce unsprung weight. As provided in the kit, these shocks come with high quality 1/2 inch NHBB Teflon-lined spherical bearings installed.
SHOCK ADAPTERS: Upper and lower adapters are required to convert the stock metric bolts to the 1/2 inch spherical bearings. These high quality parts were produced by Racer's Edge. Special sleeves are used at the top mount and a beefy 2-piece design is used for the lower mount.
INSTALLATION: I decided to install these units in "helper mode" to work in parallel with the stock 24 mm torsion bars. I was hoping I could just fit them and be good to go. Unfortunately, the high pressure gas design raised the rear ride height about one inch with no preload in the coilover springs. To compensate, the preload in the torsion bars had to be readjusted to get the ride height low enough so the coilover springs could be used to set the final ride height. This required changing the spring plate angle from about 20 degrees to 10 degrees, which is coincidentally just about the same angle used by the 968 M030 cars.
The effective wheel rate of the stock 24 mm torsion bars is about 140 lb/inch. My goal was to increase the rear wheel rate to about 300 lb/in. Since coilover springs are only about 60% effective at the wheel I installed a set of 2-1/4 inch ID, 8 inch long, 275 lb/in Hypercoil linear rate springs to augment the torsion bars.
My rear spring rate choice was pretty much "right on"... this rear setup works very well with the modified front suspension. The car feels very neutral and well balanced and the handling is exceptional.
---
CASTER MOUNTS & SWAY BARS

CASTER MOUNTS: When fitting 17 inch wheels PCNA Technical Bulletin, Group 4, Number 9303, dated 28 September 1993 requires the installation of new caster eccentrics, rear mounts and nuts. The new stronger parts are the same as those fitted to the 968. The rear mount has much less rubber compared to the stock 944 mount and the construction is much more rigid (see picture above).
Updated Caster Mounts — Parts List

| | |
| --- | --- |
| Part No | Description |
| 951-341-023-01 | Rear Mount (2 ea) |
| 951-341-431-02 | Eccentric (2 ea) |
| 900-910-115-02 | Nut (4 ea), 100 Nm (74 ft-lb) |
SWAY BARS: Stock sway bars on the S2 are the same as the 1989 944 Turbo. The hollow front bar is 26.8 mm diameter and the solid rear bar is 16 mm diameter. Both are non-adjustable. All 944s exhibit quite a bit of roll when pushed in a corner. Upgrading the sway bars is a good way to help mitigate this situation.
The factory parts bin has some excellent performance parts from the 968 M030 cars. The hollow front bar is enlarged to 30 mm diameter and the solid rear bar is enlarged to 19 mm diameter, with a 3-way adjustment feature. These are the bars I installed (see pictures above).

Racer's Edge Delrin sway bar bushings now available.
968 M030 Sway Bars — Parts List

| | |
| --- | --- |
| Part No | Description |
| 944-343-706-30 | Front Bar, 30mm, hollow |
| 944-333-701-01 | Rear Bar, 19mm, solid |
| 951-343-794-05 | Front Bar Inner Bushings (2 ea) |
| 951-343-793-31 | Front Bar Outer Bushings (2 ea) |
| 951-343-795-01 | Front Drop-Link Donut Bushings (4 ea) |
| 964-333-792-00 | Rear Bar Bushings (2 ea) |
| N-012-449-1 | Front Bar End Circlip (2 ea) |
These 968 M030 bars work great on the street and are also good enough for light to moderate track work requiring minimal adjustment capability. Stiffer bars such as the Weltmeister (affectionately known as "The Weightmeister" due to their... uh, heavy construction), Kokeln, or Tarett Engineering are a better choice for heavy track use or PCA Club Racing.
---
TORQUE SENSING DIFFERENTIAL

The majority of 944s sold in the US did not come equipped with the factory limited slip differential (LSD). My S2 was no different. Fortunately, several options are available to rectify this situation.
| | |
| --- | --- |
| | Many people retrofit a used factory clutch-type LSD. This is the mandatory route for those intending to drive their car in a stock autocross class that prohibits swapping of the factory unit. These units are fairly easily obtained. Prices will vary considerably based on condition because many used units will need rebuilding since the clutch plates and discs are subject to wear. A typical used price would be in the $600-1000 range. |
| | The Quaife A.T.B. automatic torque biasing differential is also available. These units are based on the Torsen design and use a set of special internal worm gears to transfer torque from one wheel to the other. Unlike the true LSD which has a fixed percentage of lockup, the torque biasing units transfer a variable amount of torque depending on wheel slippage. These are great units for the street because they are quiet and don't need periodic rebuilding. Late model 968s equipped with the "limited slip" option came from the factory with the Torsen differential. Quaife units for the 944 used to retail for $1595 but due to competition from the GT differential, the price has come down considerably. |
| | A relative new-comer to the market are the differentials designed, manufactured and sold by Guard Transmission. GT manufactures a number of different units, from full-race LSDs made from billet steel, to lower cost torque sensing units for combination street, autocross, and track use. The unit pictured above is the GT 944 torque sensing unit. The design is very similar to the Quaife, is beautifully machined, and costs less. I was so impressed I bought one. Retail price was $1395 when I got mine... but it's a lot lower now :-) Be sure to ask about a PCA discount. The newest design now looks like this. |
In normal street driving I rarely notice the GT unit. It's quiet and works smoothly. Nail the power however, and you'll feel it lockup and transfer torque, especially in a corner. It really has transformed the S2's ability to accelerate under adverse conditions like we have in the Pacific "Northwet." I highly recommend any of the above units for the serious S2 owner.
---
17 INCH WHEELS & TIRES

STOCK 16" WHEELS: The Design 90 wheels on the standard S2 were 7Jx16, ET55 in front and 8Jx16, ET52.3 in the rear. These 7-spoke cast wheels were shod with 205/55 and 225/50-16 tires. M030 equipped cars used larger Design 90 wheels of 7-1/2Jx16, ET65 in front and 9Jx16, ET 52.3 in the rear with 225/50 and 245/45-16 tires. These wheels looked pretty good on the S2 back in 1989. However, in today's world of ever increasing wheel diameters and changing styles, they look a bit dated now. I decided to make a change. Given the nearly limitless choices of wheel and tire combinations, I went the easy route and installed late model 17 inch factory wheels for their strength, light weight, and surprising affordability when purchased as new-car "takeoffs."
17 INCH WHEELS: The twist wheels pictured above were standard equipment on the 911 (model 996) starting in 1999. They measure 7Jx17, ET55 in front and 9Jx17, ET55 in the rear and are a perfect fit on the S2. No spacers are required. Standard 911 tires sizes are 205/50 and 255/40-17. I purchased my set from The Collection, a very large multi-make dealer in Florida. Call or write Joe Gonzalez in the Porsche Parts Department to check their current inventory and prices. For MY 2002 Porsche has introduced some new wheel designs. The standard 17" wheels are now have 10 spokes.
When fitting 17 inch wheels, PCNA Technical Bulletin, Group 4, Number 9303, dated 28 Sep 1993 recommends a front tire size of 225/45-17 on a 7-1/2Jx17, ET65 rim. Therefore, I was a bit leery of using the smaller "911"size tire and narrower wheel because I didn't want to adversely affect the balance of the car. In 25,000 miles of driving I can happily report the 205s work very well on the street. The only major downside is limited braking traction when subjected to the power of the huge 928 GTS brakes. Therefore, my next set of tires will include 225s in front.
Compared to the stock 16 inch wheels and tires, the larger 17 inch wheels and lower profile tires do add some impact harshness. However, even with my rock-hard Michelin Pilot MXX3 tires I don't find the increase objectionable. A little increased harshness is an easy tradeoff to accept for greatly enhanced handling and stability.

In late summer 2001 I received a new set of Bridgestone Potenza S-03 Pole Position tires (shown above) from the Tirerack. As usual the Tirerack provided great service at a fair price. I upgraded the front tire size to the recommended tire sizes of 225/45-17 and 255/40-17. They are really W I D E (the rears are nearly 10 inches) and look great! Have a look. The new S-03 tires profoundly changed the handling of my S2. Handling that I thought was very good before is now great, and the car feels much better balanced with the wider 225 front tires. These are easily the best tires I've ever used. Traction in the wet is unbelievable, and resistance to aquaplaning is outstanding, you can drive through pouring rain and not even notice it. We get a lot of rain here in Seattle during the Winter months, and these tires really perform well.
---
18 INCH WHEELS & TIRES

18 INCH WHEELS:

I've always liked the looks of the 18" Porsche Technology wheels, so when Brumos Porsche had a few sets for sale at a "reasonable" price recently I took the opportunity to upgrade... and I'm very happy with the results. The set I purchased included 7.5x18, ET50 front wheels and 10.0x18, ET65 rear wheels. I'm running Bridgestone S-03 tires in 225/40 and 265/35-18 sizes. They fit perfectly on my S2. The ride is definitely a bit harsher than with the old 17s, but not to the point of being too objectionable unless the pavement is really rough. The handling is wonderful and even more stable compared to the 17s. Please see this website section for additional technical information including part numbers for the various Technology and turbo look wheels.
Note: PCNA released Technical Bulletin, Group 4, Number 9305, dated 15 April 1993 that says "Retrofitting 18" wheels on Porsche vehicles which do not have 18" wheels as original equipment is NOT ALLOWED." While this was technically true back in 1993, numerous 944 vehicles have been TUV certified with 18" wheels in Germany since then. Just follow the guidelines for upgrading to 17" wheels (fit the 968 style improved caster mounts) and you should be OK. Remember however that larger wheels and tires do put more load on your suspension components, so be sure to inspect everything periodically. Upgraded suspension components (including new suspension bolts) are highly recommended!
---