Last Updated 22 May 2008
---
OPTION CODES

Porsche offers many choices for factory installed options. Standard available options are all assigned a 3-digit option code number. When purchasing a used Porsche you should always get a list of the installed option codes because not all of them are easily determined by casual inspection. For instance, it's pretty easy to determine whether a prospective car has the partial leather seat option, but not nearly as easy to determine whether it has the limited slip differential option.
So, how do you do get the list of option codes? Easy. The factory has equipped the 944/968 family of cars with two option code stickers. One sticker is conveniently attached to page 4 of the Warranty & Maintenance booklet, and the other sticker is attached to the inner rear body panel near the left taillight assembly. If your warranty booklet is missing this is the place to look.
Now that you have the list of option codes, how do you find out what they all actually mean? After all, 030 or 220 don't exactly spell out what those options are. Fortunately, this work has already been done for us. Just click on the links to get all the option code information you ever wanted. Have fun.
| | |
| --- | --- |
| | The cool active server page Option Decoder on Charlie Kindel's Porsche Pages. |
| | The Option Code lists from The Water Cooler, the Porsche 944 / 951 / 968 Resource Center. |
---
18 INCH PORSCHE TECHNOLOGY WHEELS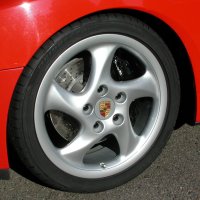 The Porsche Tequipment® Technology wheels first appeared on the 993 Turbo, and soon thereafter became famous for their light-weight, hollow spoke design. Porsche says of the Technology wheel and tire set, "Hollow aluminum alloy spokes are inseparably fused to the rim using a patented friction welding process, resulting in a weight reduction of 25% over conventional wheels. High-performance tires add unshakable confidence for pouring power onto pavement." I say let 'er rip!
Additional pictures can be seen here.
Since the introduction of the true Technology wheel, Porsche has also introduced a "Turbo Look" version (option M413) with solid spokes for the both the 911 and the Boxster. There seems to be considerable confusion in the marketplace (e.g., eBay ads) regarding these two different wheels since many owners of the solid spoke versions describe them as "Technology wheels." Only the hollow spoke versions are true Technology wheels (option M408).
Several differences distinguish the Technology wheels from their turbo look counterparts:
| | |
| --- | --- |
| | Technology wheel sets have metal valve stems. |
| | Technology wheel spokes are smooth on the back side and Turbo Look wheel spokes are ribbed. |
| | Technology wheels weigh a lot less: 7.5" fronts are 20.3 vs. 25.1 lb and 10" rears are 24.2 vs. 29.4 lb. |
The following table outlines the available wheels for both narrow and wide body cars. When purchasing wheels in the used marketplace... "if the part number doesn't fit, don't commit!" Any problems, just talk to my lawyer... Johnny C.
Hollow & Solid Spoke Wheels — Parts List
Fitment

Size

Offset

Hollow Spoke
Option M408

Solid Spoke
Option M413

Front
7.5 x 18
50 mm

993-362-134-05

993-362-134-06
Front
8.0 x 18
52 mm

993-362-136-00

993-362-136-01
Rear
9.0 x 18
52 mm
993-362-138-00
993-362-138-01
Rear
10.0 x 18
65 mm
993-362-140-01
993-362-140-04
Rear
10.0 x 18
40 mm
993-362-140-00
993-362-140-03
---